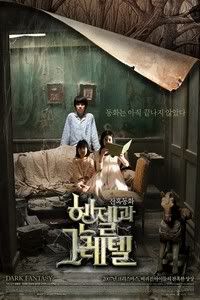 Cast:
Eun Won Jae, Hae-Soon Park, Jeong-Myeong Cheon, Ji Jin Hee, Kyeon-Ik Kim, Sim Eun-Kyung, Yeon-Nam Jang
The title seems to be like your normal Fairy tale story, but after I saw the movie, it was like a new type of genre of fairy tale. The movie was being shared by my friend when she was chatting to me that she was watching a horror movie and I asked for the title and I was in my blank state by seeing the title 'cause it seems to be like there's no horror in the title. I got the link that my friend sent to me.
I watched the movie and it's intro is somewhat creepy. The guy was in the middle of the rainy road while he was talking to the phone from his girlfriend who is pregnant and they argue about on how could a guy leave a girl with such state, and the girlfriend hung up and the guy watched his phone not knowingly that he's driving and he saw something in the road and try to avoid it then *poof*. The car was out of control and there was screeching of wheels and the car was thrown off a cliff. The story begins there. He was awaken by the light that was carried by a girl and the guy followed the girl that led them to a house that is very magical. The house was very charming like it was a haven for children. Their were 3 children and 2 grown-ups( Mom and Dad ) that was living in that magical house. They are so weird that even me really was being scared if I will encounter such behavior. The guy stayed in the house for that night. Then he was awake and eats breakfast together with the family. They really act weird. The guy bid farewell and tried to find his way out to the forest but then he realizes that he was just keep coming back to the house. With that, the guy stays for like 5 days in that house which is really full of creepy things going on. The ending of the movie was a dramatic one which I really cried. It was a happy ending for the guy and the children living in that magical house.
To sum it all up, this movie is a Two Thumbs up for me. This movie really moved me though its creepy but it has a very nice ending. Which is that I really recommend to all of you to watch and see it yourself.
If you want to watch the Movie. Just Click
here
Til here. still watching some movies that kills my boredom. ~!